The Avengers
by Joss Whedon, Zak Penn ; Marvel Studios, Paramount
Gavin Burrows — 09-May-12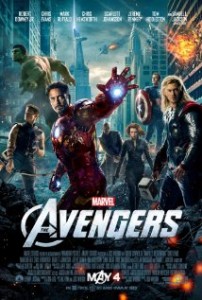 Mildly spoilerific!
Let's start like obsessive fans, by obstinately insisting on something! Neither myself nor anyone else in the cinema queue asked for the offshore release title Marvel Avengers Assemble, a klunky monicker seemingly designed to simultaneously annoy fans and put off casual punters. So here we're using the American, and in fact the correct, name for the film version of The Avengers – which is The Avengers.
It was a cliffhanger escape worthy of superhero comics themselves…
There'd been a spate of surprisingly good Marvel superhero films, but like all spates that soon looked spent. The twin engines, X-Men and Spider-Man, had both served up sub-par third helpings. While other offerings, such as Wolverine or The Fantastic Four had been widely derided as total duds.
At that very point, with the mistiming typical of a blundering corporation, Marvel announced they were to make their own films. After the Ang Lee failure, they would remake The Hulk. But beyond that they were reduced to their second-hitters – Thor, Captain America, even Iron Man! Worse, they then announced these films would take place across a shared universe, which would build up into an Avengers film. This of course mirrored the way the Avengers comic had come to be.
It also seemed deeply dumb. Didn't they get that the previous films had won audiences precisely by dumping all the convoluted continuity, which had infested the comics like bindweed, and gone back to the characters' source? Superheroes had finally escaped the clutches of the obsessive nerds – now they were to be clawed back? None of this signalled well.
And then what do they do but serve up hit after hit?
Somehow they found the perfect blend. They'd know when to stick to the original storylines, and when to update them. They'd throw in enough "in" references to feed the fans, but without bothering general audiences. They'd sprinkle on just enough humour to sweeten the dish, but without swamping it and making the whole thing seem campy. But mostly, in a Marvel tradition we haven't seen for some time, they knew how to tell a thumping good story. The two most recent instalments, Thor and Captain America were spoken of favourably on this very site. (Check here and here.)
But of course, each success raises the bar. We've now had five instalments, and sat in emptying cinemas to watch five credit sequences for the clues they'd contain to this film. This is Earth's mightiest heroes! It can't be okay, it can't be as good as the others, it has to justify the build-up they gave it. In an ensemble piece, traditionally the trickiest type of story to tell. No pressure, guys!
In his Guardian review, Peter Bradshaw comments that "the effect is to appear to give each Avenger a kind of rotating, recurring cameo in someone else's movie – Loki's, probably." If I found myself drinking from the half-full side of that glass, perhaps it's my inner comic fan. Or perhaps it's because of a smart underlying conceit. While we always knew the Avengers were going to be assembled, none of the team did. So Thor shows up assuming he's in his own sequel, Iron Man in Iron Man 3, and they wonder who all these other bozos are. Which makes the circle virtuous. At any one point as we follow any one character, he behaves as if he's at the heart of the film, and we go with him.
And also, of course, that's very Avengers. DC's Justice League were the super-team that played together nicely. The Avengers were never assembled neatly, like flat-pack furniture, but came to be amid much bodge joins and banging of thumbs. The film frequently finds comedy in misunderstandings and cultural gaps between the characters. But there's also a more telling moment, when Captain America's warned from getting involved in a grudge fight between Thor and Loki. "They're basically Gods", he's told. With logic and manners straight from the Forties, he replies "there's only one God, ma'am," and leaps into battle.
It's the very opposite of a shared universe. It's like each has come from his own movie and taken its rules and codes with him, to find them suddenly colliding with a set of others. Even without the compulsory fighting-before-uniting scene, there's pretty much continuous verbal sparks. (In dialogue that's surprisingly sparky for a superhero film.)
There's also something being channelled from Alan Moore's League of Extraordinary Gentlemen - the suggestion that this "team" is really a menagerie of monsters, stirred up and manipulated by shadowy Government  forces, who themselves fear what they're unleashing. (You probably couldn't mention it to Moore, but it shows what a post-Marvel concept the League really was.) The Avengers are Nick Fury's alternative to the Tesseract, an evil energy source and plot MacGuffin. But you're sometimes left feeling they're like the Tesseract, too powerful a force to be left assembled.
Bradshaw is right in one respect. Just like Thor before it, this film is Loki's. Though he was never a regular Avengers villain, he was the inaugural one, a step the film's smart enough to follow. The Earth's mightiest heroes? What better adversary than the duplicitous Prince of Lies, the one person guaranteed to get them fighting each other? In fact it does one better than the comic, by making their forming his very plan.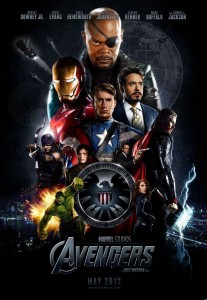 (Though Nick Fury's machinations also play their part, as is semi-reflected in one variant of the movie poster. The original team were formed by a mixture of the Teen Brigade's radio hammery and happenstance. Conspiracy has truly replaced coincidence in modern culture.)
With the Thor film, everyone said it was a wise move to prune his cod-Shakespearian utterances. For example, I said that. But Loki's heightened speech does so much to make both films. The difference of course is that his is not flowery and pompous, but arch and cutting – like he could floor you with a put-down. It's as if he wants to be in some more quality film, but is constantly disappointed by the "dull creatures" and "mewling quims" he encounters. He disdainfully concludes that to make them thralls to his will would be a kindness. (A motivation most likely lifted from Mr. Quimper in The Invisibles, but a good idea's a good idea.)
At one point Thor tries to invite him back to the family fold, but he replies witheringly "all I remember is the shadow." While he means growing up in another's shadow, of course he is Thor's shadow, not protective of the Earth but malevolent towards it. He is the shadow which falls between each Avenger, and sets them at one another.
But of course that makes his main antagonist not his brother but Iron Man/ Tony Stark. Stark is played much like Mark Zuckerberg was in The Social Network, brilliant but dismissive of others to the point of pathology. "I don't play well with others," he explains, which is putting it rather mildly. At times he seems to be as keen to isolate and exacerbate the team's fracture points as Loki.
Significantly, Loki takes over Stark HQ as his base. This leads to a confrontation scene which, while making little narrative sense, is the heart of the film. Loki attempts to "convert" Stark into a minion by striking Tony on the chest with his magic staff, but it fails. Logically, it's blocked by Stark's pacemaker. But symbolically it fails because of their underlying similarity – you can't make a shadow out of a shadow.
While Loki gloats that the Avengers will only ever amount to fractious in-fighting, Iron Man counters that they'll put aside any differences to defeat him. Of course the film pivots on which way this will fall. As writer/director Joss Whedon has said, "in those comics these people shouldn't be in the same room let alone on the same team – and that is the definition of family."  And significantly it's Iron Man who… well, let's not spoil everything.
There's a gag in an old Ren and Stimpy where Ren's personality splits into his good side and his indifferent side. Which isn't far off Bruce Banner and the Hulk here. When Stark purposefully goads Banner, his response is pretty much that he can dig at himself better than anyone else. He's played like a Jewish comedian, neurosis on legs, troubled currents only slightly below a placid surface. Watching his passive-aggressive act and hearing his perpetual references to "the other guy", it's equally enthralling, fearful and inevitable to await the transformation.  In Ang Lee's art-house effort, waiting half the film for the Hulk to show just got tedious. Here, he's like a ticking bomb who can talk. Which makes him both the team's epitome and the centre of Loki's plot.
Iron Man's development does perhaps come at the expense of Captain America. As in the comics, Cap's the team player who does most of the assembling. But here that rather reduces him to Stark's straight man, fuming at his quips. He certainly seemed less of a stiff in his own film. Perhaps they should have copied the comics and somehow delayed his appearance, like a flag raised mid-way through the battle which galvanises the troops.
Though more minor characters are nicely played up (principally Agent Coulson), this does all rather squeeze the screen time for the Black Widow. Her introductory scene seems to set up her stall, inverting and subverting the damsel-in-distress stereotype. But she then spends much of what subsequent time she has moping after Hawkeye. True, she has some highpoints, including one stand-out scene against Loki, but this rather cuts against her strength as a character.
It seems paradoxical. The Avengers themselves rarely had a solitary female member. And superheroines have been selling comics pretty solidly since the nineteen-forties.  But few of the modern films have made such a heroine their star, and precisely none of the Marvel Studios films. (Check out this handy Wikipedia list.) And the ones we've seen have not been widely considered successes: Supergirl, Catwoman, Elektra…
And as for Hawkeye… actually, he's pretty dull and one-dimensional, but then that could be argued as true to the comics.
There's two main weaknesses, both of which appear in the finale. Actually the first pretty much is the finale. It's like something a non-fan would assume ended a superhero film – "I dunno, aliens invade New York or something?" They're so like something from an arcade game you expect points to come up on the screen whenever any get dispatched. This skews the dramatic build-up of the film, and makes the most memorable action scene the assault on SHIELD HQ mid-way through.
As Loki is Thor's shadow, there's some suggestion the aliens are Loki's. (Just like the shadowy government figures are to Nick Fury, figures represented by video-conference screens, movie shorthand for official evil.) In this way the aliens play a similar role to the Ice Giants in Thor, sheer adversarial destruction, while Loki himself is more conflicted. But if that's the idea, it's not sufficiently developed.
There's a similar problem with the Hulk. When he first appears, he's a horror film monster, rage incarnate, lashing out at the Black Widow for no other reason than she's there. (His hunting of her is one of the film's most effective sequences.) But when he reappears in the finale, Banner simply aims himself at the invading aliens and goes green. He might as well shout "rage on", like  the original Captain Marvel would cry "Shazam!" He's come back an entirely different character, from monster to superhero.
Admittedly, the film needs something like this. If Banner/the Hulk represents the team's conflicted nature, they need to come into some accordance before the end. Fractious fury becomes directed energy. And there is some set-up for it. Stark gives him some pop psychology about embracing "the other guy", rather than suppressing him.
But if those are the dots we're asked to join, they're simply placed too far apart. It's a common complaint. Films today are so frenetic, so flashy, so over-stuffed, there's never any time for development. It's like they're being told in shorthand.
But, if flawed, this film's as good as anyone could realistically expect. It's told by people who understand the team's nature and appeal, and can bottle that and serve it to audiences new and fannish alike. It's been a five-film wait. And it's pretty much been worth it. If you haven't already, it's time to get down to the local multiplex…
10 Responses to "The Avengers"
Tags: Avengers, Black Widow, Captain America, Hawkeye, Hulk, Iron Man, Joss Whedon, Marvel, Nick Fury, Thor