Neverland: The Life and Death of Michael Jackson
Neverland is obviously a sincere effort, but not really much better than the wave of cash-in rubbish that Bluewater have knocked out in more recent years.
THE MOONWALKING DEAD
Having not actually listened to Michael Jackson's music for a while, I fired up the collection Immortal on Spotify. Rather good, wasn't he? Probably deserved a bit better than being remembered as a segment on Bo'Selecta. Still not sure he isn't singing "No moustache could ban Stanley Kubrick" on Man In the Mirror, though.
This is the latest offering from Omnibus Press. I must confess I harbour a small grudge toward them for calling their Nirvana book The Kurt Cobain Graphic a few years back. Which is a bit like going into HMV and saying, "Do you have the new Rolling Stones Music, please?" It's a petty thing, but someone has to deal with the general public, and it's usually not the people trying to reinvent the meaning of words for no good reason. (Don't even get me started on the middle-class stupidity behind trying to call an event "Slutwalk".)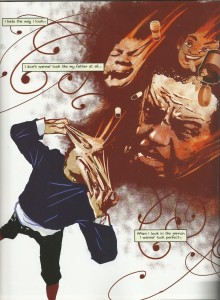 This is a loose biography based on Michael Jackson's life. It follows in the tradition of trying to mix music with comics, which is always tricky. Sometimes you get things as clever as Alice Cooper and Neil Gaiman's Last Temptation of Alice, which was pretty good. Classy looking production, created with a mind for both mediums. Drawn by Michael Zulli as well. Then there are things like the cracking KRS-ONE biography by Kyle Baker. Lovely stuff. It's a Kyle Baker comic. There's no such thing as a bad Kyle Baker comic!
Then there is the other end of the spectrum. I'm saving my love/hate/utter fascination with Todd Loren and Revolutionary Comics for another piece, but for every Rolling Stones: Voodoo Lounge by Dave McKean or Charles Shaar Murray's Purple Haze, there were a multitude of unauthorised New Kids on The Block or Guns N' Roses cheap knock offs. Revolutionary's Sex Pistols one was actually quite good, though, only bettered by the one that Omnibus Press has put out by the fact that Steve Parkhouse (The Bojeffries Saga, Big Dave, Milkman Murders, currently doing the brilliant Resident Alien with Peter Hogan) drew the latter.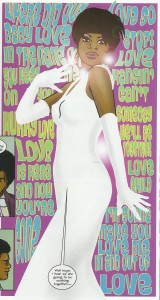 And then there's this: Neverland. I understand the need for a vague title, but if you are doing a book about Michael Jackson, you probably don't want to be invoking Metallica. On first skim, Neverland looks amazing. The cover doesn't really suggest anything to do with The King of Pop, but it does do exactly what it states. It's a graphic biography of Michael Jackson. There are some stunning pages, especially the image of Diana Ross that pretty much sent off a Motown Sound Bomb in my head, or the double page spread dealing with Michael's descent into obsession with plastic surgery. Heck, Brian Williamson draws the saddest looking chimp I've ever seen. Someone should be selling his page describing Smooth Criminal as a poster. It is amazing!
But, like the man himself, this book is somewhat… odd. One oddity is the glaring omission of anything to do with Moonwalker, his 1988 psychedelic stream of consciousness movie, which was as pure a look at one man's thought processes relieved of all inhibition as anything Burroughs, Huxley or Coleridge could have dreamed of.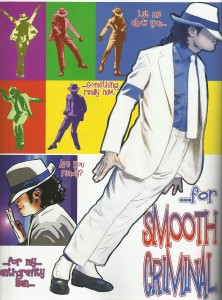 Also, whilst admittedly I know very little about the man himself beyond the film and skimming headlines over the years,  Michael always struck me as a bloke who reality tended to go mad around. Here he seems a bit, well, thick, talking to himself in a bizarre expository fashion whilst flipping out and swearing at everything like some kind of dandified Ron Simmons.
So, Neverland is obviously a sincere effort, but not really much better than the wave of cash-in rubbish that Bluewater have knocked out in more recent years. There's a bit more narrative, but sadly, so much is focused on the court cases and Jim McCarthy's delve into Michael's obsessions rather than any exploration of his relationships with Janet Jackson or Liz Taylor. How Michael Jackson convinced the director of Taxi Driver, Mean Streets, Raging Bull and Goodfellas to direct the video to "Bad" was probably worth a bit more than a panel of them talking. The odd storytelling, terrible dialogue, stilted figures and that awful Fin/Begin thing at the end of the story makes it seem like it was culled together from National Enquirer headlines and put out in a stupidly expensive format in order to appeal to the same sort of people who buy velvet Elvis Paintings.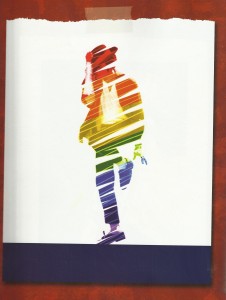 Worth borrowing from the library to scan the awesome Diana Ross piece, and the beautiful tabloid image, and use as posters. Add to the dozens of "Me Too!" novels about the King of Pop, available for pennies as we speak…

Tags: Brian Williamson, British Comics, Jim MCarthy, Michael Jackson, Omnibus Press