Josie and the Pussycats
Josie and the Pussycats is rock biopic in comics form, and there's nothing wrong with that.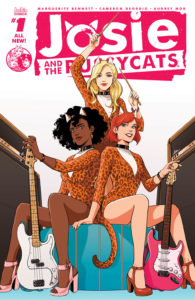 Who doesn't love Josie and the Pussycats? Even if you've never read the comics, it's likely, if you are of a certain age, that you have fond memories of the early 1970s cartoon series. Now, they are the latest Archie property to get the reboot treatment. They might seem very much of their time (especially the catsuits), but this is an agreeable update.
The story is of Josie, Melody and Valerie first getting together as a band, but the back cover blurb proclaims that the Pussycats are "known across the world" and "international superstar music sensations". So the readers already know the outcome. What we have here is essentially a rock biopic. When you watch, say, Backbeat, you know already that John and Paul and George will become world-conquering stars. And that's what you get here.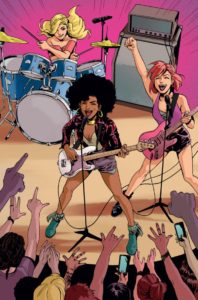 It's not completely as you'd expect – Alan M is reinvented as a music producer, and as yet there is no sign of Alexander Cabot III, just his scheming sister Alexandra. The latter is well-portrayed, and there are hints of a friendship with Josie that went badly wrong. If Marguerite Bennett and Carmen Deordio's dialogue occasionally falters, overall the result is charming. Audrey Mok's art is rather gorgeous, especially a beautiful cover. Who would have thought we'd ever see accurately drawn guitars in a Josie and the Pussycats comic? The interior art is a bit looser, more cartoony with some manga elements. But it's still very nice. (There are another eight variant covers, of which Giselle Lagace's is lovely, the only one that really stands comparison with Mok's.)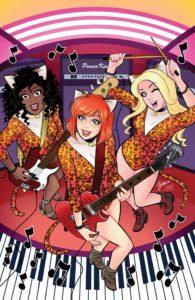 If there's a problem here, it's that in a comic it's hard to convey an idea of what the Pussycats actually sound like. All we really know is that they start off awful, but (rather too speedily to be credible for anyone who's ever actually been in a band) by the end of the first issue they're terrific. Are they power pop? Punk? Electric folk?

It's been an interesting couple of years for music-based comics, with Kieron Gillen and Jamie McKelvie giving us The Wicked + The Divine and the third volume of Phonogram, and DC coming up with Black Canary (to which there is a wicked little nod in the cover for the next issue of Josie, now out). If this isn't quite up to the standards of those works, it's still a pleasant, enjoyable comic. And there are precious few of those about.

(Also, you get a bonus of a strip from the first issue of the original series of Josie and the Pussycats, as drawn by Dan DeCarlo. It's completely different from the main comic here, but is, of course, charming as hell.)

Tags: Archie, Archie Comics, Audrey Mok, Carmen Deordio, Dan DeCarlo, Dick Malmgren, Josie and the Pussycats., Marguerite Bennett