Steve Dillon, 1962-2016
We remember Steve Dillon.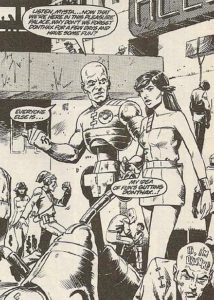 News came at the weekend of the death of Steve Dillon, at the far too young age of 54. Dillon first came to most comics fans' attention in 1980, when, at the age if 17, he was paired with writer Steve Moore on Abslom Daak, Dalek Killer for Doctor Who Weekly. Two years later, Doctor Who editor Dez Skinn again paired Dillon with Moore for his comics magazine Warrior, on Laser Eraser and Pressbutton, an sf strip of kinky assassins that featured a character created by Steve Moore and Alan Moore, who had subsequently featured in Alan Moore's The Stars My Degradation. Dillon gave Axel Pressbutton a more realistic look in keeping with the less cartoonish nature of the Warrior series, and created the appearance of Mysta Mystralis, the eponymous Laser Eraser, a character he plainly enjoyed drawing. At about the same time, he also did his first work for 2000 AD, with a particularly idiosyncratic take on Judge Dredd's jawline. In the late 1980s, together with Brett Ewins, he created Deadline, a unique blend of small press comics and music magazines, though he didn't draw much for the magazine himself.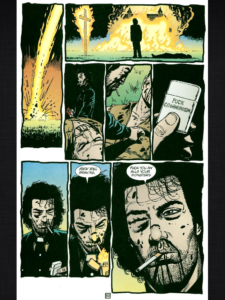 His most productive partnership was with writer Garth Ennis. They worked together first on DC's occult series Hellblazer, before bringing us the creator-owned Preacher. Preacher was a brilliantly funny and irreligious Southern Gothic horror-fantasy, remarkably convincing for a creative team from County Down and Luton. Ennis and Dillon went on to work on Marvel's Punisher.

Dillon's art evolved over the years – he grew progressively less concerned about realism in some of the human faces he drew. But his clean line was instantly recognisable, and always attractive.

Will Morgan writes: "Very upset to hear of the demise of artist Steve Dillon, not only because I enjoyed his work immensely, but because, even though my acquaintance with him was very slight – a handful of meetings at various UK Comic Art Conventions and Glasgow Cons through the 80s and 90s – he was always a total sweetheart, thoughtful and considerate to everyone who approached him, even nobodies like myself." I can confirm that about Steve from the one time I met him, over thirty years ago at a comics convention in Glasgow. He will be much missed.

Tags: Preacher, Steve Dillon