Nicole Virella on Return of the Living Deadpool
The Frog Queen's Amy Brander talks to illustrator Nicole Virella about the forthcoming Return of the Living Deadpool series.
Return of the Living Deadpool is imminent on February 4th, with a new four part limited series,  written by Cullen Bunn, following on from the previous hit, Night of the Living Deadpool. Nicole Virella is illustrator for this series, and Amy Brander was fortunate enough to be able to ask Nicole briefly about the series;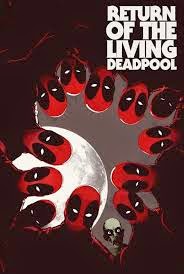 How did you get involved with Return of the Living Deadpool?
Jordan D. White, the current Deadpool editor, contacted me after a colleague of his showed him some samples of my work. That is how I got to work with writer Cullen Bunn on this amazing series!
 How does the experience of working on "superhero" titles compare to some of the other illustration work you've done in the past?
Well, this is the first comic project I've worked on that involves me penciling, inking, and coloring. It's great having that kind of control over my work, but it also means that I have to adhere to a much tighter schedule. But I don't think working on superhero or adventure titles differ from any other project I work on. I'm a storyteller; everything I do tells a story and I try to communicate that the best way I can.
What can we expect from Return of the Living Deadpool? Any show stoppers or hints you can give us about the story?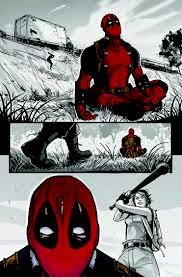 The story sort of picks up from where the last series left off. In the first issue, Deadpool befriends a teenage girl named Liz and they get into and out of all kinds of trouble throughout the four issues. Think The Professional meets The Last of Us. Also there are a ton of really cool looking Deadpools I got to design, which I hope people dig!
There's a lot about your character design that reminded me personally of Paul Pope. For instance when I saw your work on Enslaved: Birthright. What artists do you draw inspiration from (if any) ?
Thank you, that is extremely kind because Paul's work is amazing. It's funny, everyone seems to be drawn to that particular piece of mine. Those original characters are from Enslaved: Birthright, a fanfic my friend, Em Dash, wrote based on the videogame Enslaved: Odyssey to the West. The game's ending was left open-ended and sadly there won't be a sequel, which is what led us to create our subsequent fan pieces.
Personally I'm inspired by a variety of artists, but as far as comics are concerned, Jose Luis Garcia-Lopez is my favorite. He is a master storyteller and draftsman with such a keen sense of drama and emotion. I had the pleasure of meeting him two years ago at New York Comic Con and he was so lovely and encouraging, which meant a lot to me.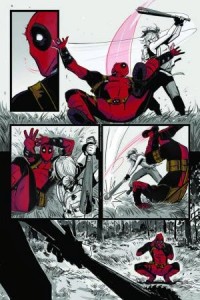 Much of your work looks whimsical and based in fantasy. Truly beautiful. What are some of the kind of projects you would like to work on in the future?

In the future, I want to get back into painting, specifically watercolor, which I was doing for a while and of course, work on more comic projects and maybe even do some concept work for a game company.

Tags: Cullen Bunn, Deadpool, Marvel, Nicole Virella