Right Way, Wrong Way: A Look at Barbarella and Little Nemo: Return To Slumberland
The ever even-handed Nevs Coleman discusses how, and how not, to promote and package projects…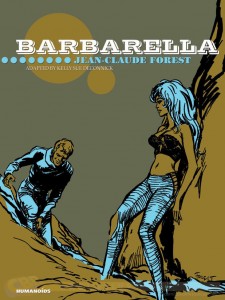 Included on the list of "Damn it, I really wish I hadn't sold that part of my collection to Jon Browne" is my run of Viz Manga's Pulp. Pulp was a life-saver for me. I didn't know anything about Manga when I started working in comics beyond watching a third-generation VHS of Akira and reading a few issues of Ghost In The Shell, and Pulp was a crash course in Manga that I sorely needed at the time. Pulp was also fun, serialising the likes of Uzumaki, Black And White, Cinderalla and the genre-splitting study in violent deconstructionism that was Even A Monkey Can Draw Manga. Pulp also featured interviews with the people creating the work, essays on the culture pertaining to the strips and previews of stuff that Viz would be publishing.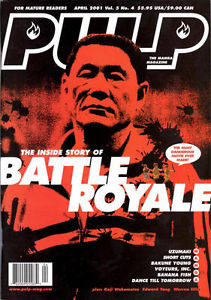 So, yeah, £4 a month meant I could talk intelligently about Viz's output and push their books through the shop, as I can sell a comic to anyone if I like it. (And, by the way, The Goon, Sex Criminals, Shaolin Cowboy, Pretty Deadly, Afterlife With Archie, Eltingville Club, Batman '66, Stray Bullets? You're welcome.) Anything beyond five quid/$8 on a new concept is a bit more difficult, but if I know more about the comic, it's an easier sell. Wanna know the reason Uzumaki was a big deal in London long before the Manga explosion happened? Wotcha! I read Pulp. I explained why Uzumaki was amazing to customers and it sold. Simple.
For new readers, this edition of Barbarella is a one-colour super deluxe reprint of the original Barbarella strips, but with rewritten text by Kelly Sue DeConnick of Captain Marvel, Pretty Deadly and Ghost fame. The dialogue is suitably flirty and camp, and it reads like One Thousand and One Nights (not the Green Lantern comic), starring an intelligent and fun heroine in Barbarella, with one set up and storyline quickly shifting into another and another imaginative and fleshed-out scenario with snappy, intelligent dialogue. I was rather worried when I read that the text was going to be "updated" that Barbarella was going be referring to LOLcats, sending Snapchat messages and receiving awkward Tinder suitors, but it just means that the previous awkward translations aren't making the story unintentionally funny due to poor understanding of English (I particularly liked the Blind Angel and Cannibal toys bits, myself). The original art by Jean-Claude Forest is a lush mash-up of Joe Kubert and Jim Holdaway.
Now, I enjoyed reading Barbarella. The difference between most of you and me is that I get to read this for free because I'm on Humanoids' mailing list (or I was when I wrote this, anyway). Can I really, honestly recommend this to someone for the £50 you'd have to pay for a copy? No. I can't. But that's not a dig at the work in any way. I just couldn't tell you that I thought any one graphic novel was worth £50. A deluxe edition hardcover of Liberty Meadows featuring the strips, the unreleased ending to The Wedding Story plus University Squared, any other bonuses or cameo appearances, all the covers, sketches and suchlike bonus features would still have me thinking, "But it's actually fifty British pounds. Fifty pounds that is a bit more than what I get paid for a day's work for some jobs I do. Just less than Unemployment Benefit for a week. I could get a 500GB Hard Drive for my PS3 for that. That's more expensive than a Triple A game being released at Christmas. Even if I bought it at Sainsbury's, though."
So as I try to be more of the solution than the current vogue of criticism that suggests "This is bad because I don't approve of it." (COUGH SPIDER-WOMAN BY LAND & MANARA COUGH!) I'm sure there are people who are both well off enough and enamored of the things that they're publishing to stump up the best part of £100 to buy two or three books, and that's fine. I'm sure it does Humanoids well enough to coast off the good feeling people have towards Jodorowsky, Dodson, Jose Ladronn, etc.
But then what? Once those books are sold to people with fond memories of the authors or have a desire to own every edition of something, how do you expand your market, because I don't think "Here, try this thing you know nothing of for £50", is going to work.
I own The Incal (ta, P.M. Buchan) because if pushed, I'd probably be tied between that and The Invisibles as the greatest story ever told in the comics medium (defining a story as something with a designed beginning, middle and end, not something wrapped up because of cancellation). (Sandman? No.) It took a fair bit of work to settle on one version of The Incal, and almost on the day that I finally got the hardcover trade edition, I was informed of the publication of Final Incal. something I very much would like to read as a physical object, but I'm going to be waiting until the HC drops way below the £60 asking price it currently goes for.
One solution to this problem (and it is a problem, I've already noticed these books starting to gather dust in shops and being remaindered at London marts) is for Humanoids is to put out a reasonably priced anthology aimed at the weekly/monthly comic market, serialising the stronger parts of their output, and then releasing those works in a softcover format, similar to what DC produced when they had the license to publish Humanoids' output. Maybe get a new strip by Jodorowsky serialized in the mag as an incentive for those well-off people who actually had the money to buy the HCs in the first place.
If I'm not ripping into them as you might expect, it's that I've found Humanoids to be one of the publishers whose work I can sell to real people, because they don't put out work that's a quagmire of its own continuity, super-hero comics that don't understand their own audience or such. "This is The Incal, it's about a man who discovers who he really is. Oh, and it's drawn by Moebius." I can do that kind of pitch with most of their books and it worked a treat with the softcovers. I want them to thrive as a genuine publisher of comics for adults, who can be there to keep people reading the medium once they're grown out of the superhero stuff. Basically, Humanoids, here it is: serialise your work in a monthly anthology in something akin to Heavy Metal without the porn ads and put out softcover editions of your books and I'll have something to work with as a retailer and a reviewer. As it stands, the quality of the output is overshadowed by the price points.
[Amendment
Since the original posting of this, Jo from Humanoids has been in touch. He tells me two things:
1) There will be a standard edition of Barbarella released after the HC. Price will run around $35/£22 or so. Humanoids are planning to make it standard practice to have the HC/SE editions released, spaced out by a few months like the book industry. Also, purchase of any physical edition of their books from their website gives you free access to the digital copy. If you haven't checked out their huge range of stuff that ought to be on your bucket list of "Comics You Should Really Read Before Death', their website is here. I'd start with Madwoman Of The Sacred Heart' by Jodorowsky and Moebius.
2) Volume 2, which has never previously been published in English, will follow in the New Year. Translations will again be provided by Kelly Sue DeConnick.
Shoutout to Jo from Humanoids, by the way. I've had publishers blanket blacklist me from talking to their creators after a far less rough review of their product than what I said. Jo took in what was discussed and responded in a fair and intelligent fashion. So fair play to them for being able to take their ego and PR head out of the equation and be able to discuss the points I made rationally and even give me some good news, which I'm sadly sworn to secrecy about.]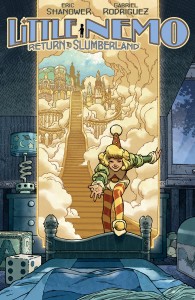 And on the extreme opposite, the right way to promote an old work being brought to a new generation of readers, Little Nemo: Return To Slumberland by Eric Shanower (Age Of Bronze, The Elsewhere Prince) and Gabriel Rodriguez (Locke & Key) brought to you by IDW. This is a bit of a year for the Little Nemo franchise. Not only is there this rather lovely ongoing series, but also there's the Kickstarter project Little Nemo: Dream Another Dream, produced by Locust Moon with probably the best line up on one comic you're going to see in 2014. There's also something called Big Nemo by Alan Moore and Colleen Doran on the way via Electricomics. IDW could have taken the total piss with their new comic and only released it as a Popbot format hyper expensive thing, or maybe as an Artist's Edition, hoping the faithful would show up with their $60 odd.

Instead, they put out a preview as part of Free Comic Book Day, and knocked out the regular comic as a $4 thing. You get a full story, a bunch of script and pencil art. It looks beautiful. If I have a regret about this title, it's that IDW don't have a cheaper priced Younger Readers line. This really ought to be sitting and shining next to the likes of Archie, The Muppets, Ben 10, Adventure Tome, because, really, this is the top of the line children's comic that we should be selling cheap to the next generation of readers. Little Nemo: Return To Slumberland is a gorgeous, charming comic, and a faithful continuation of the work of Windsor McCay. One of those rare moments where something so idiosyncratic as a strip like this is actually worth reading, even if you are a fan of the original. A simple story of a child lost in a dreamworld with incredible art. Order the inevitable second printing (it was already sold out in various shops when I had to go hunting for it in August) and lose yourself in imagination for a while.

Tags: Barbarella, Electricomics, Humanoids, IDW, Jane Fonda, Jodorowsky, Liberty Meadows, Little Nemo, Manga, The Incal, Uzumaki, Viz, Windsor McCay