Sisters Are Doin' It For Planet Earth…
What would Lois Lane have been doing? Probably lining up a back-up husband, in case Superman never came back.
The early-1960's 'Radio Comics' line, briefly, seemed a lot more mature in terms of gender relationships than the DC Comics Superman line of the same era.
For example, the Jaguar's Lois Lane equivalent, Jill Ross (secretary to the Jaguar's alter ego, veterinarian Ralph Hardy) not only knew the Jaguar's secret, but helped him to keep it. And when the Jaguar went missing, Jill contacted two of the Jaguar's other lady friends, super-villainesses turned heroines Kree-Nal and Cat Girl, to form a 'Jaguar Emergency Squad'. The trio made sure disasters were prevented, lives were saved, and the heroic wheels kept turning on.
What would Lois Lane have been doing? Probably lining up a back-up husband, in case Superman never came back.
"Hmmm. Clark Kent's still single… better make a move before Lana gets there!"
(One can forgive Jill for being sufficiently distraught, on the cover, to address a remark to Kree-Nal which she clearly intended for Cat Girl – after all, she had a lot on her mind…)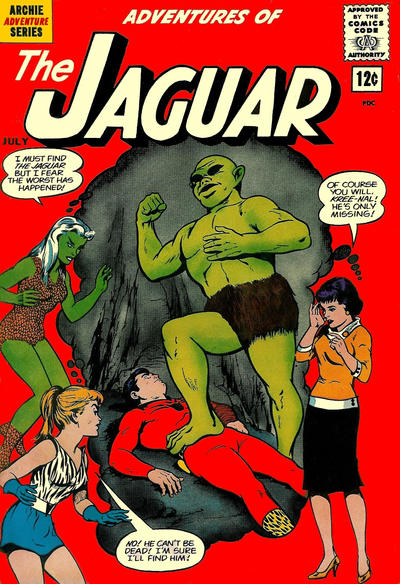 Tags: Archie Comics, Jaguar, Mighty Crusaders