Romantic Mayhem Pocket Book
by Various ; National Tragedy
Will Morgan — 09-Jun-12
LOVE AMONG THE RUINS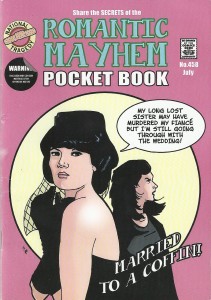 Love? It's a trick and a trap, a delusion planned to keep women in their place and out of the way – or such is the overt message of most of the stories in this sturdy A5 comedy anthology, 52 pages of infatuation, obsession, misunderstanding, betrayal and occasional pants-wetting laughs, shot through,  despite it all, with a paradoxical optimism.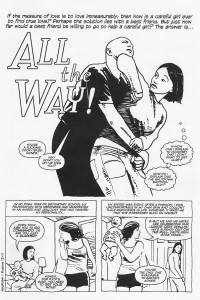 The 15 stories show a diverse range of influences, from bigfoot traditional comics like the Beano to wispy 70s love stories a la Jackie and Romeo, to a sort of twisted rip of the Archie house-style, which is the closest any of them get to an American influence, despite many having an American setting. But verisimilitude isn't the priority here; it's bleak, black humour and for the most part it's very effective.
Stars of the show are "What's Roy Thinking?", by Gar Shanley and Paddy Brown, a tender tale of psychosis; the superbly bold and blocky "Perfect Nadine" by Ian Pettitt (a Lichtenstein in the making – but with talent!); the foul-mouthed yet surprisingly poignant "All the Way!" about a young girl's groping towards womanhood, by FA's own John Robbins; and the snarkily funny "For the Love of God!", by Gar Shanley and Davy Francis.
But those are just personal favourites, with almost all of the stories being of an equal standard, which is where Romantic Mayhem Pocket Book scores above its rivals. Too often with anthologies (and yes I am looking at you, The Girly Comic), the short stories don't end, they don't resolve, they just … stop, as if the creator was called away to their tea and never came back.
Here, though short, most of the stories are complete, and the one that feels open-ended and unfinished – Elida Maiques' "The Thief" –leaves you very much wanting to know more. There's a couple of duds, and one genuine WTF? moment, but the storytelling is generally much stronger and more consistent than we're accustomed to in these group acts.
So I would strongly recommend that you buy it, but here, here, is the sticking place; I can't tell you where to get it, or how much it will cost you.
You can buy a digital version online from nationaltragedycomics@gmail.com for – crap, my computer's so old it doesn't have a Euro key – 3.09 Euros, or $3.99 US (they don't bother to tell you a pound price), and you can make enquiry as to how to obtain a hardcopy by e-mailing them, but by Christ, they don't make it easy to get this thing!
National Tragedy Comics, it's time for some tough love; I'm a retailer, and the first rule of selling anything is "Make it easy for the punters to give you their money!". You've got a cracking product here; would a price on the cover, and a mailing address to send payments to inside, really be so much to ask? This comic's a wee gem that deserves to be seen by more people – so why the hell aren't you getting out of your own way?
2 Responses to "Romantic Mayhem Pocket Book"
Tags: Gar Shenley, John Robbins, National Tragedy, parody., romance comics