NOTHING WILL EVER BE THE SAME AGAIN. AGAIN.
by ;
Will Morgan — 22-May-12
Since 1985's Crisis On Infinite Earths, the "Summermegacrossover" has become a tradition at the Big Two, an action-packed, highly-lucrative "event" in which some unprecedented calamity calls for all of DC's or Marvel's biggest guns to band together to avert the destruction of the Universe/the Earth/East Grinstead in a series of increasingly-contrived battle extravaganzas involving at least one "main" series, usually several separate ancillary mini-series, and a bunch of crossover issues into the ongoing titles, where the regular storylines grind to a halt so we can see the whole morass all over again from the titular hero's PoV.
The seminal version (affectionately abbreviated to COIE, because frankly who can be arsed to type all that out repeatedly?) was the most groundbreaking and effective of the type, because it did precipitate a major reshuffling of the DC Universe. Flawed and fumbling, yes, with "retcons" taking place up to a couple of years subsequently, when we were suddenly told of the comics we had been reading, "Er, no, that character in that story never existed, it was this one instead" – but at least it did have consequences, not least of which were the deaths of a major hero – Barry Allen, the Flash, who remained dead for twenty-odd years – and of a solid B-lead, the Kara Zor-El Supergirl, who has remained pretty much dead until the present. (A couple of reboots notwithstanding, she's not been revised as the same character. Work with me here…)
The many, many successors have increasingly diluted the effect, giving us much sound and fury, the deaths of a slew of minor characters, some costume changes and power alterations, the introduction of new heroes and villains (who are patently destined to wear the red shirts in the landing party of next year's Summermegacrossover), and other narrative botox to give the illusion of drama while not obstructing an easily-reached "Fanboy Reset" button (© Dan DeDidio) at the event's end.
Eventually, fandom en masse caught on that the "consequences" of these events were increasingly piddling and inconsequential. There came the onset of Summermegacrossover Fatigue, and the sales figures for each year's Infinity Bunfight, Secret Probing, Gusset Crisis or Sloth Itself spiralled ever downwards.
So DC, last year, took it one step further. 2011's DC Summermegacrossover, Flashpoint, starred the recently-undead (but not undead in a fun, vampire/zombie way, just … alive again) Flash, Barry Allen, who decided to tinker with the timeline to avert tragedies to his loved ones. As anyone who'd read Stan Lee/Steve Ditko twist-ending mysteries could guess, his meddling resulted in a strangely changed, grimmer world, and in the end Bazza had to do a City On The Edge Of Forever to set things right.
Except he didn't quite manage it, and we, the readers, were presented with the new new revised DC Universe; everything launched again from #1, in a world where the DCU has been operating for around five years as of "now", Batman maybe a little longer than that.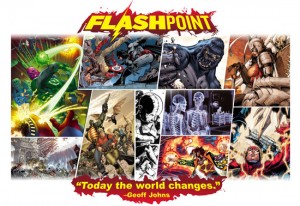 It's bewildering – while many familiar titles are changed beyond recognition, several have gone on much as they ever did, so there's the uncertainty of not knowing what we're supposed to "remember" as having "happened" – but it has been hugely successful; the New DCU titles triumphed in the sales charts, with the Top Ten all being DC (and #10 being Aquaman – Aquaman outselling X-Men, Avengers, Spider-Man, et al? It is the Apocalypse!).
Marvel, with very much an air of throwing its toys out of the pram, countered by cancelling its longest-running uninterrupted title, Uncanny X-Men, and relaunching with not one but two new #1's.
But nobody paid much attention, because Marvel had played that card too many times already.
Over the last fifteen years or so, Marvel had gotten into the habit of relaunching its popular series. A new Avengers 1, Thor 1, Iron Man 1, Hulk 1, Captain America 1 … they'd become regular occurrences every few years, and the novelty of that tactic was worn thin and played out, having no "clout" up against the sheer ballsy hubris of DC cancelling its entire line (some of which were on the run-up to their thousandth issue), and rebooting all.
So, Marvel needed to up their game.
Enter this year's Summermegacrossover, Avengers vs. X-Men, in which myriad heroes claiming affiliation with either team (and in many cases both, making for the kind of soul-searching conflicted angst Marvel readers love as long as it doesn't get in the way of the hitty stuff for too long) are forced to take sides and kick the asses of their close allies, all over the return of the galaxy-chomping Phoenix Force to Earth, and its intended host, a young girl called Hope, currently residing with the X-Men.
In the pages of this otherwise run-of-the-mill Summermegacrossover,  Cyclops and the other X-Men many times make references to the Phoenix Force as a powerful transformative agent, able to create as well as destroy (a complete retcon of every other appearance of the Phoenix, but we'll set that aside for now.)
Furthermore, it's evident that a lot of the regular Marvel titles – Avengers vs. X-Men crossover issues excepted – are kind of in the creative doldrums, appearing to be marking time. Creative lethargy – or a deliberate 'holding pattern'?
And a lot of new Marvel titles have appeared over the last year which, frankly, seem doomed to failure. A kinder, gentler Venom being hosted by plucky amputee Flash Thompson? A second Captain America title which is, in all but name, Captain America Team-Up? A return to that whole gut-wrenching Spider-Clone nonsense with a Scarlet Spider series? Or how about poor Carol Danvers; sidelined by Mar-Vell, subjected to multiple makeovers as Ms. Marvel, kidnapped, brainwashed, raped and forced to give birth to her own attacker in the Avengers, by turns powerless, alcoholic and now, as the newest 'new' Captain Marvel, having apparently won some sort of contest for the butt-ugliest costume and hairstyle ever? Sweet zombie Jesus,  hasn't the woman suffered enough?
No, these titles give every evidence of being "placemarkers", there to hold spots on the production schedule for other series – being prepared, perhaps, by the people who conspicuously aren't working on the A-List Marvels – to step up when their cue comes.
Joe Quesada, interviewed shortly after the DC relaunch, stated categorically that there were no plans to do a similar thing at Marvel; however, a) he's been known to tell porkies in the past, and b) given the huge commercial success of DC's New 52, does anyone seriously believe that the thought hasn't crossed his mind?
It may of course all be coincidental; I could be entirely wrong. But it would be the soundest commercial move Marvel could make to authoritatively, and possibly permanently, take the sales lead back from DC…
4 Responses to "NOTHING WILL EVER BE THE SAME AGAIN. AGAIN."
Tags: Avengers, DC, Marvel, The New 52, X-Men