Jean Giraud/Moebius dead
by ;
Tony Keen — 13-Mar-12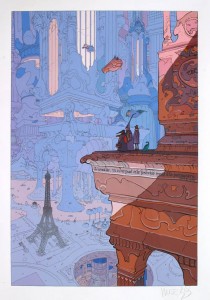 The French comics artist Jean Giraud, better-known as Moebius, died on Saturday 10 March, aged 73. Under his own name, he co-created with Jean-Michel Carlier the Western series Blueberry.  But he is better known as Moebius, the pseudonym he used for his science-fiction work.  These include the wordless Arzach, the extraordinary The Incal, which Alejandro Jodorowsky wrote as a showcase for Moebius' abilities, and The Airtight Garage of Jerry Cornelius.  He even drew a Silver Surfer story for Marvel, Parable, written by Stan Lee.
No-one who ever saw Moebius' fantastic surrealistic sf artwork would every forget it.  Almost single-handed, his work came to define what a European sf comic was supposed to look like, partly thanks to his co-creation of the sf anthology comic Métal Hurlant, stories from which reached the US in the pages of its imitator Heavy Metal.  His influence is apparent in the work of younger artists such as Enki Bilal.
His influence is also palpable in science fiction cinema.  Giraud produced conceptual concepts and designs for a number of movies, most famously The Fifth Element, on which he collaborated with his friend Jean-Claude Mézières; the cityscapes of this movie ooze Moebius.  But his legacy can also be seen in other movies on which he did not work, such as Blade Runner, directed by Ridley Scott, who had used some of Moebius' designs on Alien.
Another of the greats has passed.
Tags: Jean Giraud, Moebius