Red Hood and the Outlaws 1
by Scott Lobdell, Kenneth Rocafort ; DC Comics
Will Morgan — 22-Sep-11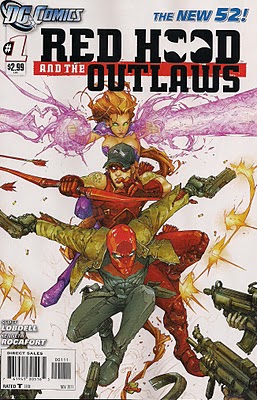 "OH, MARGE… JUST BECAUSE I HATE IT, THAT DOESN'T MEAN I DON'T UNDERSTAND IT …"
I was blindsided by this. Wonder Woman was the comic I fully expected to hate this week. (For the record? WW's a bit boring, a bit brutal, a lot pretentious, but no, I didn't hate it.)  But Red Hood I didn't expect much of, and demanded less; I could handle Roy Harper being without a daughter as long as he had both arms and didn't have the stupid and implausible relationship with the murderess, and this promised that, so I went in with low expectations.
And it started out promisingly; Red Hood, Jason Todd, busts the imprisoned Harper out of a Quaraqi prison in fine caper-movie style, there's wit, invention, amusement… and then the big reveal about a character I never even liked beforehand. Specifically, Starfire.
Starfire I've always regarded as a joke, an implausibly behootered one-note slab of hetboy wankfodder with a relentlessly perky facade and not much else. Yet Lobdell manages the astonishing feat of making her even shallower than before, which brings me to the Homeric paraphrase I use as the title of this review.
Because I understand his line of reasoning; I get how he got there. But it's a 'there' that no sane editor should have allowed him to go to.
As a Card-Carrying member of the Tragic Fanboys League, I recall (as, clearly, does Mr. Lobdell) that Kory's alien species, the Tamaraneans, for all their humanoid attributes, are feline-descended rather than primate-descended.
So… he's made her into a cat. Not in the creepily anthropomorphic sense, but a humanoid female displaying the stereotypical traits of felines; short attention span, lack of memory, distinguishing people by scent rather than sight, driven by her hormones to be relentlessly on the prowl for carnal gratification.
We're not yet up to speed on what we're supposed to remember as having 'happened' in this 'New 52', but conversation between Roy and Jason confirms that Starfire was a member of a super-team, led by Nightwing, with whom she was in a romantic relationship.
Except she doesn't remember any of this, because she's a lobotomised whore living solely in the present, with no thoughts of the past or future, or, well, any thoughts at all really.
Actually, I take that back. She's not even a whore, because they're often savvy businesspeople who get paid; Starfire's simply now a conveniently amnesiac slut.  I didn't have much respect for the character before; but by Christ, she deserved better than this.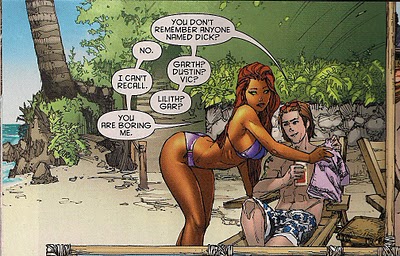 After this palate-puckering disclosure, a mysterious woman who may be visible only to Jason Todd pops up to direct him to the Himalayas, where slaughter has ensued, and seems about to ensue again, but frankly I was so far beyond caring that the comic ended up flung with great force into the corner of the room, to be retreived by the dog for extra bedding.
I may, of course, be maligning Mr. Lobdell. He may have a master plan in which Starfire comes to full self-realisation and autonomy, and this initial gambit may be only the opening stage in her journey of self-discovery and enlightenment, and not, as it currently appears, woman-hating Neanderthal sewage.
Maybe. But I'm not betting any money on it. Not even the £2.35 for issue 2.
6 Responses to "Red Hood and the Outlaws 1"
Tags: Awful, DC, Red Hood, Red Hood and the Outlaws, Starfire, The New 52