Action Comics 1
by Grant Morrison, Rags Morales ; DC Comics
Will Morgan — 14-Sep-11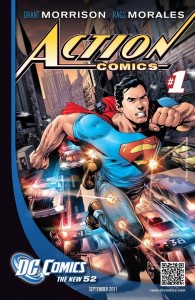 WORKING CLASS HERO
After the virtually content-free Justice League and the constipated clusterfuck of Hawk and Dove, it's nice to be able to say something positive about one of DC's New 52.
With Action Comics, Morrison has gone back to Superman's social and political origins. This Superman is very much a hero of the proletariat, opposing not just bog-standard evil-doers, but corrupt cops, dishonest politicians, and avaricious business conglomerates.
When the first Action Comics 1 debuted, in 1938, America was still reeling from the Great Depression; the majority of people in the USA still lived perilously close to the poverty line, with a tiny minority flaunting their wealth and power, claiming that the suffering of others was neither their fault nor their concern – and how times have changed, right? Enter Superman, champion of the common man, defender of the dispossessed and oppressed from beaten wives to screwed-over employees, terrorising the complacent 'elite'.
Over subsequent decades, that message became blunted, then lost, as Superman integrated more with mainstream middle-America, his outrage drained and his compassion channelled into anodyne do-gooderness.
But here, Morrison spells it out to the fat cats; "Treat people right, or expect a visit from me."
Even the much-derided costume change (these are Supes' early days, not the slicker version we've glimpsed briefly in Justice League and Swamp Thing) is appropriate in context; it looks rough, thrown-together, hand-made by someone with higher priorities than 'branding'.
The usual players are in place – Lois, Jimmy, Luthor – but with a patina of freshness (Lois and Clark working for rival newspapers) the narrative is coherent and compelling, and Rags Morales' artwork is stunning, enlivening even the 'talking-heads' scenes with vitality and depth.
Best of all, it avoids Morrison's two greatest faults – weak piddle-away endings that don't match the strength of his opening concepts, and a propensity for being up himself to an extent, well, usually seen only on very specialist websites.
There's ample time ahead for Morrison to introduce all his usual tangled conspiracy-theory bollocks, if he must; but I'm hoping he'll restrain himself. Because frankly, this non-mainstream Superman is not only the strongest offering of the new DCU by a very long way, but a distinctive and largely unheard message, in comics and in wider society, and I'd like it to remain so.
2 Responses to "Action Comics 1"
Tags: DC, Grant Morrison, Rags Morales, Superman, The New 52