BPRD: Plague of Frogs
by Mike Mignola, Guy Davis, Misc. ; Dark Horse Comics
Martin Skidmore — 25-Feb-11

I am by now a total Hellboy fan, and that extended quickly to Mignola's world, especially when I fell for Guy Davis's artwork. Having said that, this 400+ page hardback book is not a very coherent volume.
It starts pretty well, with a strong adventure by Mignola, Ryan Sook and Curtis Arnold: Sook is a more delicate artist than Mignola, less impressive in slablike force, but it's still a remarkably seamless blend. In the next two shorts, Matt Smith is almost as good and almost as faithful – a touch more old Kirby in his work, appropriately in the first story, set in 1939.
It kind of goes wrong for a bit after those, as Mignola hands the reins to other people to write as well as draw – apparently he was busy working on the Hellboy movie. The first has okay writing by Brian McDonald, although its allegorising is very clumsy and its sense of mythology is rather different from Mignola's (more EC horror perhaps), but the problem is very ugly art by Derek Thomson – I can live with a total change of style in the art, as with Davis, but not when it is also hideous, though that works for some monster scenes.
Miles Gunter and Michael Avon Oeming are more faithful in story and art style, and then we get the moment that excited me, a story by Brian Augustyn drawn by Guy Davis. Davis's work is less relaxed here than in the currently running BPRD comic, but the focus on a small town gives him a chance to show his drawing range, which is hugely impressive – not only does he give people the same kind of life as the great Harvey Kurtzman, the rest of it, particularly the architecture and texture, reminded me of other people in his circles: Will Elder, John Severin, even Robert Crumb (yes, he does count as being in Kurtzman's circles, as Help! published Crumb). I'm falling for Davis in a big way here – my biggest new artistic crush since at least Darwin Cooke. The story is again not very Mignola, but the more EC feel fits well with the art, so I didn't mind.
Geoff Johns & Scott Kolins and Joe Harris & Adam Polina give us nice enough stories, though the latter is too Monsters Inc., both with excellent art jobs, followed by a Mignola story drawn by Cameron Stewart. All these are good, but then we get to the meat of the book.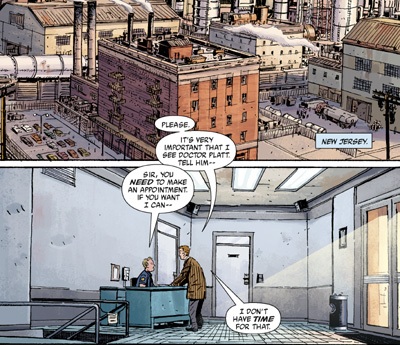 This is the first of four volumes that will collect the huge Plague of Frogs saga, the first five-issue mini-series of which ends this book. It's a total joy. Mignola revives some ideas from early Hellboy stories, bringing back the frog creatures and the big cosmic horror threat behind them – the ending of the conflict in this story beautifully opens the story into a large scale, and you can't fail to realise there is much more. Except that's not the end of the mini-series: in a magnificent final issue we get something of an origin for amphibious creature Abe Sapien, the bulk of it silent and dreamlike. Davis excels himself on this, with plenty of help from the wonderful Dave Stewart colouring: atmospheric scenes underwater including a terrific Victorian submarine, and a Victorian house with a mysterious library and cellar, in which a seance is taking place. Davis is great throughout this story, but the final issue raises the bar again: a genuinely compelling, beautifully controlled artistic performance.
So although this is rather bits and pieces for much of its length, those bits and pieces offer plenty of pleasures in story and art, and when we get to the start of the big story, it immediately becomes some of the all-round best mainstream comics I've read in many years, genuinely exciting in script and art. I'll certainly be back for the rest of this story. And I've already bought stacks of old Hellboy volumes from Amazon. And I need to start digging out the Guy Davis comics I've missed…
Tags: BPRD, Dark Horse, Guy Davis, Hellboy, Mike Mignola